Valves - Actuators - steel LIMIT SWITCH
FC-A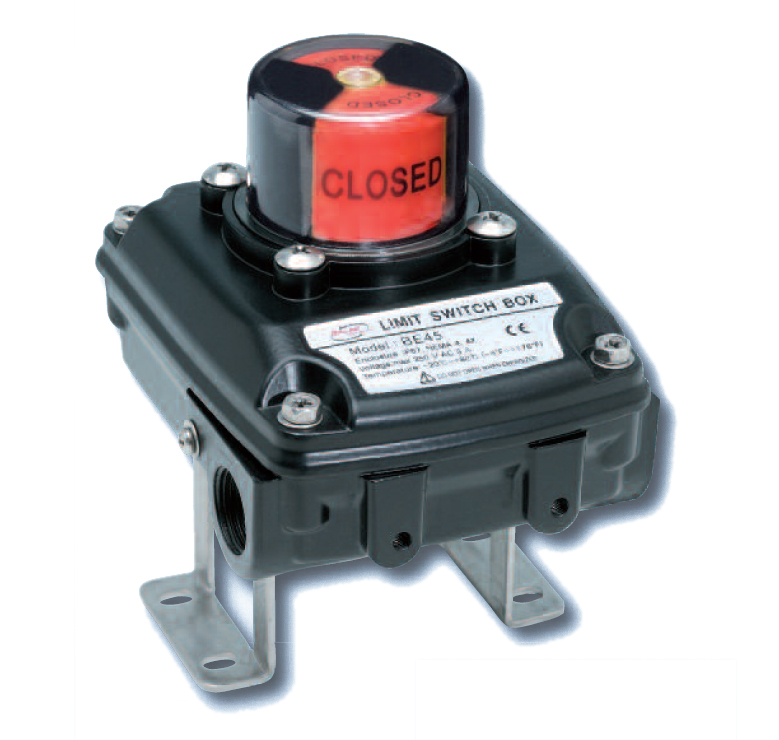 ---
Use
The limit switch boxes are very compact, thereby allowing maintenance of a smaller valve envelope size.
The operating position of the switches can be easily changed by adjusting the high resolution spline cams manually and independently without the need for additional tools. The cams are spring backed and will not be affected by normal vibration.
It is equipped as standard with two (2) conduit entries M20x1.5 (1/2" NPT on request) and one (1) terminal strip with 8 point, angled to allow for easy wiring.
The limit switch boxes comes standard with a high visibility beacon, offering clear location of the current valve position
The switchbox also comes standard with stainless steel captive cover bolts.
NAMUR 80x30 H30 stainless steel bracket supplied as standard with stainless steel fastening hardware for ease in mounting the switchbox onto the actuator. BE45 can be mounted on NAMUR H 20 actuators thru a techno polymer coupling.
Description
Black steel limit switch box
- Die Cast aluminium housing
- Aisi 304 st. steel shaft
- ABS Indicator, Polycarbonate windows
- St. steel spring, NBR seal
- Aisi 304 Bracket
- Protection degree IP67 / NEMA 4&4x
- input 2 x M20x1.5
- switches SPDT 3A @ 250 V AC
- 2x proximity sensor+ magnetic switches
- 8 point terminal
Using range
-20 + 80°C (-4 + 176°F)
Models
Options
ATEX EEx ia iIC T6 - 1/2 NPT - Gold plated contacts
---