Valves - Actuators - ALUMINIUM ACTUATOR
UT Alluminio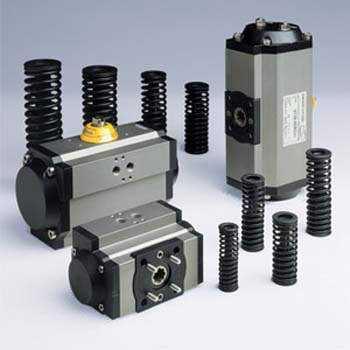 ---
Use
The rack & pinion pneumatic actuator produces linear torque output in a compact design utilizing the same body and end caps for double acting and spring return units
Description
Namur VDI/VDE 3845 and ISO 5211 dimensions on all sizes. No special blocks are required to mount solenoid valves, limit switches or positioners.
External open/close indicator as standard, available for all the rotations. Pinion height (NAMUR 30) allows manual override without disturbing the indicator position
Using range
Air pressure operation from 1 to 8 bars (40 to 150 psi). Water, nitrogen and compatible hydraulic fluids may also be used to power the actuator.
All external fasteners are corrosion resistant stainless steel. Working Temperature: -20°C +80°C.
Models
Options
The standard angle of rotation is 90°. Additional travel rotations of 120°, 135°, 150° and 180° are available. UT15 and upper sizes feature a double travel stop with ± 10° stroke registration.
---