Pressure gauges - Test coupling and micro-hose - M16x1.5 and S12.65x1.5
MP505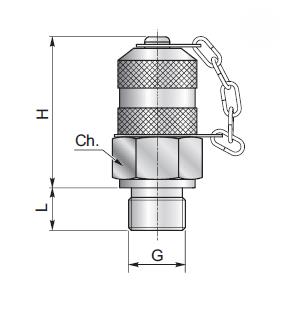 ---
Use
Our coupling systems can be applied to any type of mobile machine, in all the main sectors: agricultural, industrial, building construction or transport.
The manufacturer can increase the quality and safety of their machines or plant, thanks to the amazing cost/benefits ratio of our products.
Description
Galvanizrd CARBON STEEL coupling M16x2
- NBR seal
- Sealing: see "E" column
Using range
Working Temperature: -30+125°C (-22+251°F) (NITRILE); -25+230°C (-13+246°F) (FKM)
PN 600 bar (8700 psi)
PN 250 bar on 1/8"
Models
P - Plastic closing cap and binder
L - Metal cap and Plastic binder
C - Metal cap and chain

Options
Aisi 316 Stainlees Steel (See A column) - VITON or FKM seal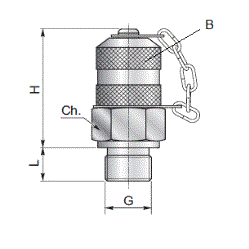 Available sizes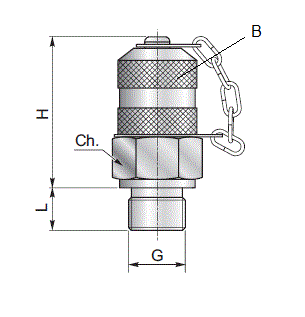 | VAR | A | B | E | H | G | L | CH |
| --- | --- | --- | --- | --- | --- | --- | --- |
| 1x.M8 | - | M16x1.5 | O-Ring | 37 | M8x1 | 8.5 | 17 |
| 1x.M10 | - | M16x1.5 | O-Ring | 37 | M10x1 | 8.5 | 17 |
| 1x.M14 | - | M16x1.5 | Flat Gasket | 37 | M14x1.5 | 12 | 19 |
| 1x.U71 | - | M16x1.5 | UNF O-Ring | 37 | M10x1 | 9 | 17 |
| 1x.G18 | - | M16x1.5 | Flat Gasket | 37 | 1/8" BSPP | 8 | 17 |
| 1x.G14 | * | M16x1.5 | Flat Gasket | 37 | 1/4" BSPP | 12 | 19 |
| 1x.G14 | - | M16x1.5 | Metal edge | 37 | 1/4" BSPP | 12 | 19 |
| 1x.T14 | - | M16x1.5 | Taper | 37 | 1/4" BSPT | 12 | 19 |
| 1x.N14 | * | M16x1.5 | Taper | 37 | 1/4" NPT | 14 | 17 |
| 3x.M8 | - | S12.65x1.5 | O-Ring | 30 | M8x1 | 8.5 | 17 |
| 3x.M10 | - | S12.65x1.5 | O-Ring | 30 | M10x1 | 8.5 | 17 |
| 3x.M10 | - | S12.65x1.5 | Flat Gasket | 30 | M10x1 | 8 | 17 |
| 3x.M12 | - | S12.65x1.5 | Flat Gasket | 30 | M10x1 | 10 | 17 |
| 3x.U51 | - | S12.65x1.5 | UNF O-Ring | 30 | 5/16" UNF | 9 | 17 |
| 3x.G18 | - | S12.65x1.5 | Flat Gasket | 37 | 1/8" BSPP | 8 | 17 |
| 3x.G14 | - | S12.65x1.5 | Flat Gasket | 37 | 1/4" BSPP | 12 | 19 |
| 3x.N14 | - | S12.65x1.5 | Taper | 37 | 1/4" NPT | 17 | 19 |
---